Every first day of a meeting or conference, we start the morning wishing to achieve three things: to organize a conference which makes a real difference for our clients, to surprise the participants by how innovative we are and to always be the best solution provider in our field. This was true when we started operating in 1991, and it couldn't be more true today.
The roots of DEKON reach back to the year 1991, when the conference organizing company was founded. From its original name 'More & More' it quickly changed to 'DEKON Congress and Tourism', originally part of the renowned DEDEMAN Group. Already within the first clients many international associations can be found like IEEE or Soroptimists, also meetings for international bodies like NATO, OECD or the EU were organized.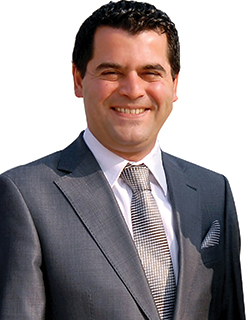 In the year 1999 Cengiz Korkmaz joined DEKON, he had already managed conferences since 1994 for other companies, as Assistant General Manager.
This new and dynamic leadership created also a new drive in the company, which became ICCA member in the year 2000, and which changed from a simple event organizer to become a PCO/Core PCO, focusing on organizing international events. Around that time also the first sports events were organized, like the World Fencing Championship, the European Basketball Championship or twice the Rally of Turkey as part of the World Championship.
Since the year 2000 a completely new, very young and enthusiastic team was formed and in the year 2004 DEKON Congress & Tourism became an example of a successful management buyout.
The company also focused stronger on medical meetings, especially in the fields of Radiology, Transplantation, Surgery and Cardiac Surgery. Three main pillars of meetings were formed, sectoral meetings (scientific/business events), medical meetings and protocol services. Local meetings for national associations were so successful that the clients referred DEKON for international conferences in Turkey. Excellence in meeting organization (DEKON was a pioneer by being ISO quality certified in 2006 and pleased clients brought recurring conferences, like the Junior Chamber European Conference which was followed some years later by a JCI World Congress and then another JCI European Conference, or the European Cytogenetic Conference which was organized already several times since 2007.
In 2009 DEKON became a member of IAPCO and started organizing conferences internationally like in Greece, Italy, Portugal, Poland, Ireland, Spain, Sweden, France, Argentina or in the United States. Also the size of meetings organized grew over the years, from a few hundred participants, to several thousand. The biggest event so far organized by DEKON was a UN Summit with more than 25.000 participants in 2011. The excellent feedback and good references from this event resulted in being the preferred supplier for the 2013 UNFF (UN Forum on Forest).
The vision of the owner of DEKON Congress & Tourism brought over the years several sister companies and specialized divisions to the portfolio. In the year 2005 MILK, a creative design agency, joined the DEKON family, Royal Shuttles (chauffeur and limo services) was acquired in 2010. The specialized divisions DMC (serves international corporate clients) and AMC (supports the congress company with Association Management services) were founded in 2007 and 2008, later DEKON Protocol Services, who is specialized in the organization of high protocol events & summits joined in. The latest addition to DEKON's portfolio is DEKON Expo, a specialized unit focusing on Exhibitions and Fairs, which was founded in 2014 and is an outcome of growing business in this segment.
The focus on global markets, as laid down in DEKON's strategic plan, led to representations in Austria, Azerbaijan, France, Germany, Greece, Italy, Serbia, UK, and USA with DEKON offices in Athens and Belgrade.
The DEKON team raised from 14, most of them is still with DEKON, to more than 72. The team is a lineup of long year experts in tourism, supported by graduates from different faculties like event management, but also engineering or political sciences. Originally a group of local experts, the team was transformed into a diverse educated, multicultural and multilingual team, understanding the wishes of clients coming from different cultures and backgrounds. Almost all staff is fluent in English, many of them as well in French, Italian and German in addition.
Today, DEKON runs annually an average of more than 60 conferences with 350 - 400 parallel sessions and with almost 40.000 meeting participants. Over 70.000 room nights are booked in about 70 different hotels, 1.600 coach transports are handled and over 800 invited speakers and VIPs are treated just as the up to 60 Heads of State, 80 Prime Ministers and 300 Ministers DEKON's Protocol Service firm welcomes annually.